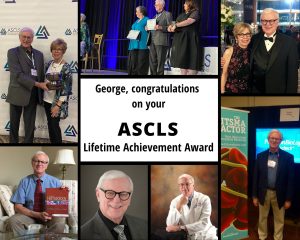 Please join the team at Precision BioLogic in congratulating George on his receipt of the 2023 ASCLS Lifetime Achievement Award. George, thank you for your many contributions to the medical laboratory science profession and for sharing your knowledge and expertise with us and visitors to The Fritsma Factor. 
George A. Fritsma, MS, MLS, Trussville, Al, Proprietor of The Fritsma Factor, Your Interactive Hemostasis Resource, was presented with the American Society for Clinical Laboratory Science (ASCLS) Lifetime Achievement Award at their annual meeting on Providence, RI on June 28, 2023. According to ASCLS, "The purpose of the Award is to recognize and honor a member who has made a difference in the medical laboratory science profession." George has been a constant strength and impactful professional for more than 53 years.
George has educated and supported new medical laboratory professionals through mentorship, support of scientific research, and by teaching quality medical laboratory testing. George understands servant leadership, using his rapport to inspire others in the spirit of inquiry, integrity, and service. He is an educator who shares his knowledge to improve and advance our profession.
George served as an editor of the Clinical Laboratory Science journal from 2002–19. As editor, he adhered to quality metrics as he expanded the journal. George founded, chaired, and consulted with the ASCLS Choosing Wisely Initiative. This initiative has made noteworthy progress since its inception in 2016 by developing sound recommendations to healthcare providers regarding the use of laboratory testing to improve patient outcomes. George previously coordinated the ASCLS Scientific Assemblies and the Education and Research Fund Board of Trustees. George currently serves as a consultant for Precision BioLogic Inc, George's Fritsma Factor sponsor; and BioMedica Diagnostics, Inc, both of Halifax, Nova Scotia. He also writes for the Inflammatory Markers Laboratory of Wichita, KS.
George was the 2012 Chair of the American Association of Clinical Chemistry Press Board where he co-authored a series of medical laboratory Quick Guides. He is a longtime member of the International Society for Thrombosis and Haemostasis. George has presented more than 140 national and international scientific talks for laboratory colleagues and has published more than 100 articles, textbook chapters and textbooks, including contributions to six of the seven Rodak's Hematology editions.
In 1968–72, George served as a laboratory officer in the US Air Force. He subsequently taught at Highland Park Community College in Detroit from 1972–76, University of Illinois at Chicago from 1976–89 and the University of Alabama at Birmingham (UAB) from 1990–2007. He continues as a faculty consultant to the UAB Heersink School of Medicine Pathology Department and holds graduate faculty appointments with Michigan State and Rutgers universities.
George's is an active member of the Cahaba Springs Presbyterian Church. He is a Trustee of the Presbyterian Home for Children in Talladega and sings in the Alabama Symphony Orchestra Chorus and the Over The Mountain Festival Chorus.
ASCLS president-elect Pat Tille PhD, MLS and director Demetra "Toula" Castillo M. Ad. Ed., MLS, state that George embraces professionalism, collegiality, diversity, and involvement. He believes in the mission of ASCLS and has dedicated his life to improving the quality of laboratory diagnostic testing. George is a true professional, and someone who is respected globally by colleagues. It is because of these reasons that George Fritsma was awarded the 2023 ASCLS Lifetime Achievement award.
The American Society for Clinical Laboratory Science (ASCLS), 11107 Sunset Hills Road, Suite 100, Reston, VA 20190-5376; 571-748-3770; [email protected]  is a non-profit society representing medical laboratory professionals. The Society contributes to the Medical Laboratory Science profession in advocacy, standards setting, continuing education, and professional development. ASCLS continues as the pre-eminent laboratory organization representing laboratory personnel, advancing their interests individually and collectively.