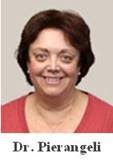 Most of us are already aware that we lost Dr. Silvia Pierangeli on Wednesday, August 28, 2013. Here is the announcement from her institution:
I am deeply saddened to share that University of Texas Medical Branch, Galveston faculty member, Dr. Silvia Pierangeli. Dr. Pierangeli was born in Buenos Aires, Argentina. She is survived by her husband, two daughters, son-in-law and mother.
An internationally recognized researcher in the field of antiphospholipid syndrome, Dr. Pierangeli joined UTMB in 2006 as Professor in the Department of Internal Medicine, Division of Rheumatology. She held joint appointments in the Departments of Microbiology & Immunology and Pathology. Dr. Pierangeli was certified by the College of American Pathologists to direct the antiphospholipid standardization laboratory, a reference center for testing on antiphospholipid antibodies not only at UTMB, but nationally and internationally as well. In addition, she was Chair of the Antiphospholipid Syndrome Alliance for Clinical Trials and International Networking (APS ACTION) International Clinical Database and Repository located at UTMB.
Dr. Pierangeli received her B.S. and Ph.D. degrees in Biochemistry from the Universidad de Buenos Aires in Argentina and subsequently her M.S. and Ph.D. degrees in Microbiology and Immunology from the University of Louisville, KY. She was awarded a Fulbright Scholarship from 1985–7. She received grants from the NIH, the U.S.-Israeli Binational Science Foundation and the Arthritis Research Campaign (UK).
Dr. Pierangeli presented her work at many congresses and symposia around the world. She was a member of the NIH Arthritis, Connective Tissue and Skin Study Section, an editorial board member of the journal Lupus and a reviewer for numerous scientific journals. She published more than 145 scientific papers in the field of APS and contributed to numerous book chapters.
Dr. Pierangeli was a gifted scientist and her death is a loss to UTMB and the scientific community. We offer our deepest sympathy to her family, colleagues and friends.
Sincerely yours,
Danny O. Jacobs, MD, MPH, FACS
Executive Vice President, Provost and Dean of the School of Medicine
Thomas N. & Gleaves T. James Distinguished Chair