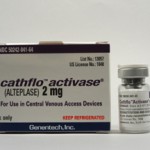 I cannot find much information about how Alteplase (Activase, synthetic tissue plasminogen activator, TPA) therapy affects fibrinogen assays. Are there any guidelines or references for specimen acceptability (time from collection) for coagulation testing when Alteplase is in use? Thanks.
Carla Purvis MT (ASCP)SH
Parkview Health System, Fort Wayne, IN
Hi, Carla, and thanks for your question. I found no published guidelines that provide timing for fibrinogen assays after Alteplase therapy, however I've attached the Alteplase package insert, which provides its clinical pharmacology: Activase Package Insert.
You'll see from the package insert that Alteplase clears from plasma with a half-life of five minutes, implying that you should be able to get a valid measure of fibrinogen less than an hour after completion of therapy.
However, your question made me recall an article, Molk B. Acute myocardial infarction in an unsuspecting male. Clinical Hemostasis Review, February, 1997, Page 14. The patient was president of a coagulation reference laboratory, and when he recognized his AMI symptoms, he had the presence of mind to ask one of the lab's professional staff to accompany him and collect timed specimens. The results are in table 1, and as you can see, 24 hours after his TPA infusion, his fibrinogen had not returned to admission concentration. Based on this, I conclude you need to wait at least 24 hours after Alteplase therapy to resume fibrinogen measurements. Click below to see the case study. Geo.