From Eleonor Arellano: Thank you for presenting a very informative seminar, "Whatever Happened to the PT and PTT?" about the new anticoagulants last Friday at Rancho Mirage. Our ER physician is requesting the laboratory to increase the reporting of international normalized ratio (INR) of ER patients up to 10.0 INR. What are your thoughts about that? Why do you think it is necessary for ER patients? Any significance that you know of?
Hello, Eleonor, and thank you for your question.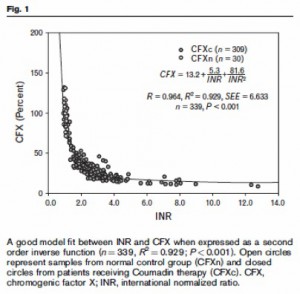 This figure is published in McGlasson DL, Romick BG, Rubal BJ. Comparison of a chromogenic factor X assay with INR for monitoring oral anticoagulation therapy. Blood Coag Fibrinolys 2008;19:513–17. The article describes how the clot-based and the chromogenic factor X assays relate to the INR and this figure illustrates the relationship of chromogenic factor X results with the INR in normals and people on Coumadin whose results are either within or above the therapeutic range. The portion of the curve that is above INR 4.0 is nearly flat, illustrating how little change there is in factor X levels in relation to INR when the INR is over 4.0. In fact, as I mentioned in my presentation last week, any INR over 4.0 (a minority of labs prefer 5.0) requires an immediate contact with the physician, pharmacist, or nurse who is managing the patient. Whether the INR is 5 or 10 shouldn't change the lab's call-back requirement nor the physician's approach to managing the patient in the ER. What is important, of course, is for the physician to treat for INR in the presence of bleeding. The full guidelines for management of bleeding in Coumadin overdose are published in Ageno W, Gallus AS, Wittkowsky A, et al. Oral anticoagulant therapy: antithrombotic therapy and prevention of thrombosis: American College of Chest Physicians Evidence-Based Clinical Practice Guidelines (9th edition). Chest 2012;141: e44S–e88S. Your physicians probably have access to this publication. I hope this helps.